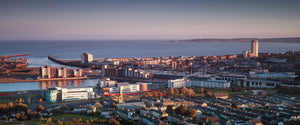 Who we are, what we do and how we do it!
ND John Wine Merchants was first founded by Nick John in 1995.
Based in Swansea and driven by a passion for great wine, we've dedicated years to discovering the world of flavours to bring you the best wines from around the world at the most competitive prices we can.
Starting as a trade only supplier to fine dining restaurants, cafes, bars and stadia, we have developed great relationships with some of the top importers in the UK to delvelop a portfolio of wines, Champagnes, beers and spirits at the most competitive prices.
A move into retail followed in 2003. Our Swansea store, opened in the Uplands area of the city, is a treasure trove of over 2000 products. With Enomatic tasting machines and regular in-store tastings, it is definitely the place to visit for wine lovers in the South Wales area!
We also run the hugely popular Swansea International Wine Fair and in 2022 launched a Cardiff Fair too, welcoming almost 1000 guests to the two events.
Our online store has been selling to the whole of the UK since 2007 and during that time we like to think we've improved and adapted our service to meet a growing demand for online shopping. Developing our own packaging solutions to improve the protection of fragile glass wine bottles and introducing rewards schemes for our customers are just two of the ways we have sought to add to the shopping experience.
With a small but enthusiastic team, we pride ourselves on being big enough to matter yet small enough to care.