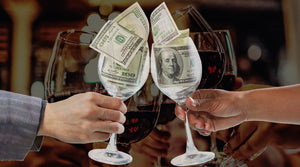 Get money for drinking wine!
Grapes Rewards
Want money for drinking wine? Sounds good, right! Our Grapes rewards scheme does essentially this.
Every time you place an order, you are rewarded with "Grapes". When these reach a certain number, you can exchange them for a discount voucher. You can then use these when checking out (or in-store if you are lucky enough to visit us in Swansea).
So how does it work?
For every £1 you spend, you receive 1 Grape. Once these reach 500 Grapes, you can exchange them for a £5 voucher. You can only redeem Grapes in multiples of 500. So exchange 1000 for £10, 1500 for £15 and so on. Only one discount code can be used per transaction. Grapes are valid for 2 years from the date you received them.
1. Sign up for an account or log-in
To start collecting Grapes, please make sure you sign in to an existing account during checkout or if you are a new customer, create an account when checking out.
2. Click on the Grapes menu Icon
To access the Grapes menu and see your current balance or to find your available rewards and vouchers, click on the red Grapes icon at the bottom left of your screen.
3. The Grapes Dashboard Menu
From here, you can access all the information you need, check your balance, and access any existing vouchers you have already redemeemed Grapes for.
4. Redeem grapes and view your rewards
Once you reach 500 Grapes, you can redeem for a £5 voucher. This will then be accessible from the "Your Rewards" button. Here you will find all your current vouchers.
5. Use a reward voucher
Click on the reward you want to use (£5 off discount, for example). This will take you to the code for that voucher. You can copy this using the symbol next to the code or click "Apply Code" to apply to your basket automatically.
6. During the checkout
During the first page of the checkout, click on "View order summary" to reveal the Gift Card or discount code box. You can paste the copied code here or if you used the "Apply code" button, then the discount should be applied.
....and that's it! money for nothing!
Unfortunately, sometimes if buying items that are on multiple discounts (6 for £36 etc), the system won't allow you to use another discount code. If this happens, don't worry. Place the order without using the discount code and give us a ring on 01792 644688 or contact us below and we can refund you the amount of the active dicount code.